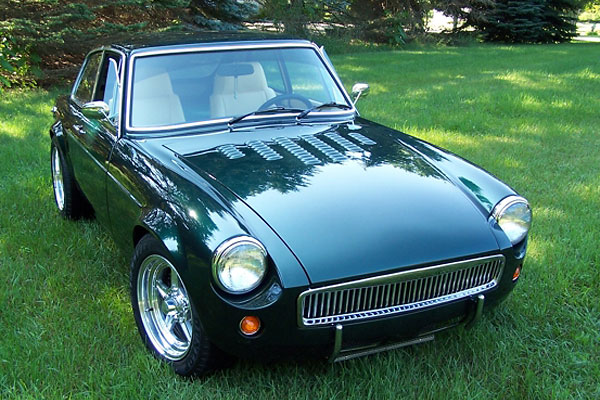 The MGB-GT originally came with a 1.8 L inline four cylinder engine producing around 98 horsepower. Enough power to get this little car going but probably not enough for most adventurous types. Dan Master decided he wanted to swap the old engine with a robust Ford 302 V8. The swap conversion was completed by Fast Cars Inc. which specializes in swapping American muscle into British sports cars. There is no exact numbers on horsepower or 0-60 but it is quoted as handling very well and was able to achieve 25 mpg at 70-80 mph.
The body has many modifications to improve the clean look of this car. Door locks were removed, lights were removed or recessed, and extra chrome pieces were removed. Fender flares were also added to provide for a wider stance.
I seem to have a special place in my heart for British chassis with American engines. The first engine swaps revolved around taking small European cars and cramming the biggest American V8 engine you could get in it. Carroll Shelby made one of the best sports car ever using his experience with swapping Ford engines into AC chassis.